Welcome to Contractor Classes.com, Florida's premier choice for contractor licensing, exam preparation and continuing education!
Contractor Classes has been the number one choice of working professionals for over 10 years because we diligently developed Florida's first computer-based training program, and have continually improved and updated its features to keep pace with increases in technology and the learning needs of our students. Today our program boasts the most intuitive and realistic platform in the industry, with custom-built features to ensure you pass your exam on the very first try. We specialize in the following: Business & Finance Examinations, General Contractor License, Building Contractor License, Residential Contractor License, Roofing Contractor License, and interactive online Continuing Education for design and construction professionals across the United States.
Check out the EXCLUSIVE FEATURES we have to offer!
(Click to learn more)
Because we have the most comprehensive learning program, the best available pricing on new books as well as rental books, full-featured demos so you can try before you buy, thousands of positive student references, and exceptional instructor support, our program has perpetually maintained its status as Florida's favorite exam prep solution! Other schools can only attempt to imitate what we have expertly developed. Don't be fooled by an inferior product- experience the difference for yourself.
What do our customers say about our products?
(Click to learn more)
Exam Review & Highlighting Lessons

"I just completed the Florida exam and scored above 90% on all sections. The highlighting guide and pre-printed tabs were extremely helpful. Almost every "look up" question was covered by the information that was highlighted and marked with a tab. I could not have been more satisfied. "
Realistic Study Questions

"There is just one word to describe your study system… Amazing. After 4 to 5 hours daily I passed the August exam with 90, 95, and 98… The most important is to be very familiarized with all the books and review all the study questions and flashcards. Thank a lot!"
Interactive Flash Cards

"I passed the June test with an average of 89.15% Having the material and being able to study at my leisure is what made the difference. From Highlighting guide, flash cards and sample test, it all worked great. I really recommend the computer based training to anyone – very intuitive, well done… "
Randomly Generated Practice Exams

"THANKS. This course was extremely helpful. The highlighting guide gave me a good understanding of how the reference books were laid out, and the practice test were a big help by giving me the confidence to find the answers. I got a 93, 95 & 95, on my first attempt! THANKS AGAIN!"
Our philosophy is to teach our students only what is covered on the exam. Why waste time learning lengthy estimating formulas you don't need? Or complex calculations that aren't on the test? This program, including the Exam Review & Highlighting Lessons, Realistic Study Questions, Interactive Flash-Cards, and Randomly-Generated Practice Exams, has proven to be highly successful and is much more enjoyable than a traditional in-class environment, because it engages the student in the learning process and targets their individual learning needs.
How we measure up against the competition…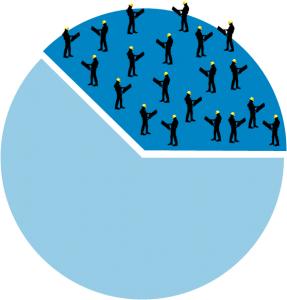 Over 1/3 of Florida's test takers choose ContractorClasses.com
The remaining students are struggling in one of the 50 other schools…
Make the right choice the first time with – ContractorClasses.com
Taking our program saves students from wasting both time and money travelling to classes and sitting through grueling lectures. Because you can view all of the features of our program from any computer or mobile device, in the comfort of your personal surroundings, you'll have more time and money to use on the things you really want to, like your job, family and personal life. And, unlike a classroom course, purchasing our full exam prep package allows you to review any material you need to, as often as you need to, until you have it mastered. No wonder Contractor Classes has proven to be the Number One Choice of the Working Professional.