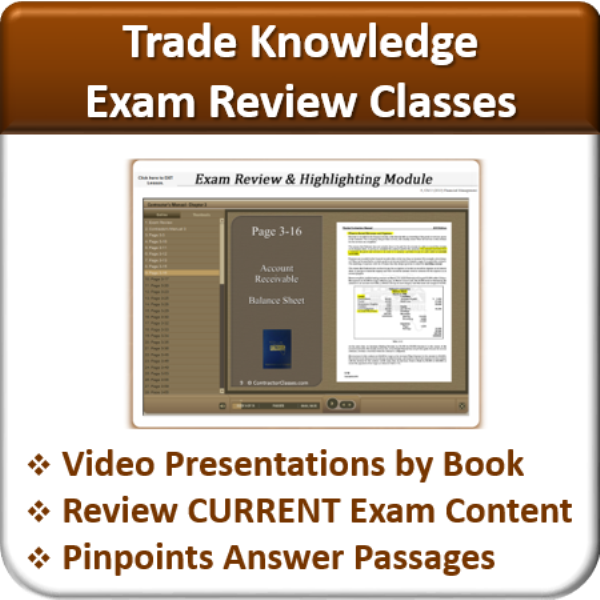 Exam Review (Trade Knowledge)
$175.00
Description
Additional information
Reviews (0)
Description
The Exam Review videos walk you through each book, showing you exactly where to highlight answers to exam questions, and reviewing the concepts currently covered on the test. It also includes a Math Module to teach you how to solve typical estimation scenarios, like labor costs, material quantities & excavation calculations.
Are you the type of person that loves driving to obscure hotels and conference rooms to sit in a room with a bunch of people you don't know and listen to an instructor who couldn't cut it as a successful contractor babble on and on about his experience getting a license back in the 90s?
No? Not the vision you were you going for? I didn't think so. Unlike other programs, with Contractor Classes you don't have to drive to a distant class somewhere, or listen to out-of-touch contractors posing as instructors,you don't have to login to a pre-scheduled webinar, and you don't have to read through a bunch of pre-printed outdated booklets or PDFs.
Instead you can just open a video on your laptop, sit back and relax, and listen while our exam-experienced instructors show you exactly where you'll find the answers to exam questions throughout each of your reference books.It couldn't be easier! This is the simplest most effective way to familiarize yourself with the books and content, period.
Don't worry, just like with their failed contracting careers, all those other instructors will find something else to do.
Additional information
| | |
| --- | --- |
| Exam Type | Trade Knowledge |
| Specialization | Building Contractor, General Contractor, Residential Contractor |
---
Only logged in customers who have purchased this product may leave a review.